If you've worked with vinyl before, you know that it can be a tricky mistress. If you manage to do everything just right, it can come out looking fabulous, but mugs throw a wrench in the mix because you're going to obviously wash them and want to know your vinyl is dishwasher safe.
So, what type of vinyl to use on mugs?
If you're curious about whether you should be using a mugs heat-press, adhesive vinyl, or something else completely, I'll tell you what works best.
Picking out the best vinyl for mugs
I'll be completely honest, most of my favorite projects involve vinyl. And most of my favorite drinks involve mugs… so it's only natural that I'd combine the two pretty frequently.
What I've discovered about putting vinyl on mugs is: there's a lot of ways for it to go wrong, like…really wrong.
You might be thinking the worst thing is that it won't stick, or that it comes out a bit sloppy. Oh nooo, I've had mugs that I've treasured, really loved, and given out as keepsakes just disappear in the dishwasher. It's hard to give someone a mug and then say "so, here are the care instructions…"
Not happening.
I will tell you this, once you get started and get the hang of it, you'll be hooked for sure. If you make some mistakes along the way, that's completely normal with any craft. It can be intimidating seeing picture after perfect picture on Pinterest of flawlessly executed projects and then look back at your own and think… what's wrong with me?
Nothing at all!
People always want to put their best foot forwards, it's hard to take a picture without makeup on, or a photo of a project that isn't quite perfect yet. But everyone starts somewhere, and crafting is no different at all!
So let's get started with picking out which type of vinyl we're going to use.
What is the best vinyl to use for a mug?
The best type of vinyl to use for a coffee mug is Oracal 751. It's a permanent adhesive vinyl and comes in a variety of colors and finishes.
The vinyl on a mug (kind of like vinyl for shirts) has to really hold up to wear and tear. This is how we're going to keep vinyl from peeling off of mugs that we make: a premium adhesive vinyl (Cricut permanent vinyl isn't really a good alternative, but you can try it).
While Oracal doesn't label this vinyl as dishwasher safe, in my experience (a lot of mugs thrown into the dishwasher) it definitely is.
Oracal 751 is a bit more expensive than Oracal 651 (which you'd want to handwash only), but I think it's worth the expense to make something last longer. You can always get your bearings with a cheaper vinyl and then move over to 751 once you're feeling confident if you want to keep the cost down.
Types of vinyl to use on mugs
You basically have two options when it comes to vinyl for a mug: permanent adhesive vinyl (like Oracal 751/651) or heat transfer vinyl (also known as HTV).
Heat transfer vinyl is a lot easier to place because the adhesive backing is heat activated, this means you have a lot more wiggle-room when placing or weeding it. It's great to use when working with t-shirts because applying a heat-press to a shirt is pretty easy.
The downside is that not everyone has a heat press for their mugs. And if you have a yeti tumbler or a large cup, you might have even more problems.
Permanent adhesive vinyl is a good alternative to HTV because it cures on its own. You do need to wait around 72 hours after placing it, but you don't need any special equipment other than the vinyl itself. Oracal 751 is the best in this class. If you want vinyl to stay on your mug, this is your pick.
Removable vinyl is the third option that people use, which I really do not recommend. Like the name says, this vinyl is intended to be removed. It's still an adhesive vinyl, but it won't put up with a dishwasher or even handwashing. If you're going to make a decorative mug that will never, ever be used, well, I guess it works then. Oracal 631 is a pretty common removable vinyl that you've probably used before.
Common alternatives
If you're looking to decorate a lot of mugs (or start your own business), the above methods are a great way to get started. It's always best to prove your thesis as cheaply as possible, so you can test more ideas without quite going broke.
But if you made a bunch of mugs and want to really scale up your operation, you have two options: dye sublimation and laser transfer.
Die sublimation is a lot like heat transfer vinyl but for inks. The dye basically becomes part of the material itself after it's heated up, making the mug a lot more durable. The downside is it can be a lot more expensive to get set up, along with higher labor costs. It's also a lot more time-consuming.
Laser transfer is a great option if you already have a laser printer. You basically use the same printer you already have on to specialty transfer paper and then iron that on to your mug. The downside is that if you do have a laser printer is probably isn't color, and this too can be expensive to set up if you're starting from scratch.
What kinds of mugs or cups work with vinyl?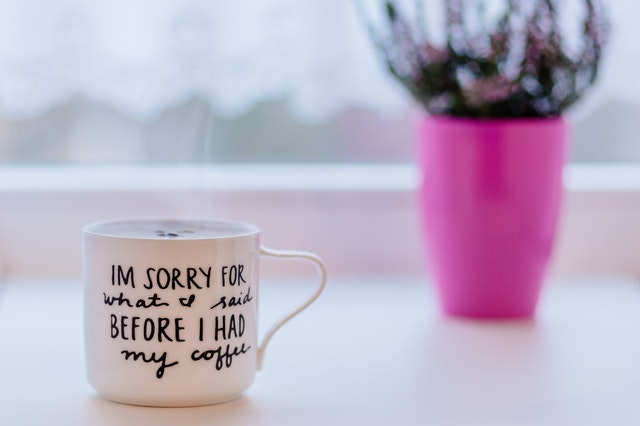 This guide works for:
smooth glass
ceramic mugs
steel Yeti tumblers
aluminum
If you have something made out of plastic, that's where you need to be careful, especially with a heat press.
Plastic cups also can be tricky because some plastics react with vinyl and cause the vinyl to peel up from the surface. If you avoid polystyrene and polyethylene (if you're like me you probably don't know what it's even made out of) you won't have any issues.
If you're also trying to apply vinyl to something like a water bottle that you can squeeze, you'll probably have issues here too. I'd go with one of the alternatives listed above.
If you want to know how to keep vinyl from peeling off mugs, this right here is how. Avoid plastic (and let it cure for a few days before washing).
Conclusion
In summary, if you're looking for a solution that will last a long time and not require a lot of upfront costs, you want to use Oracal 751 permanent vinyl for your mugs and cups. Make sure to let it set for at least 72 hours (the longer, the better).
If you wind up having other vinyl handy (like HTV and a mug heat press) or Oracal 651, both of those will work in a pinch.
Please share your finished mugs with us in the comments, and let me know how it turns out!
Other questions
Can you seal vinyl on mugs?
You can seal vinyl on a mug using an epoxy. They take a bit of time to mix, but after it's applied it'll be dishwasher safe for as long as the mug lasts.
Does this work for YETI tumblers as well? What about cups?
Absolutely! You can use adhesive vinyl on any non-porous surface, the smoother the better.
Does printable vinyl work?
Yes, but depending on your printer you might see some bleeding as it's washed. If you want to be safe, definitely give it a coat of epoxy which will also bring out a nice glossy finish.
Can I microwave a cup with vinyl on it?
I would highly recommend avoiding this. If you want to microwave the final product, consider using an enamel paint and cutting out a stencil, or for a glass there are a lot of easy to use etching creams. Super inexpensive!