It is the little things that make a house a home and create our memories.  The details.  The traditions we do each year for different occasions.  Take these coasters for instance.  Don't you think it will be fun to pull them out every year if you make coasters with Halloween Spirit?
Recently I went on a shopping trip to the Dollar Tree and stocked up.  I went to buy the Primitive Witch's legs and Napkins for the Fall Sign.  But then I saw the fall leaves and these cute little pumpkins.  At the time I didn't know what I would do with them.  It didn't worry me, I knew I would figure it out.  Then it hit me I would make Halloween Coasters.  And use up some crafting supplies.  A perfect project for this month's Craft Room Destash Challenge.
The Craft Room Destash Challenge is a monthly challenge so we can use what we have.  Although we are allowed to spend up to $10.00 for supplies.  This month I spent $1.07 which includes the sales tax.
Meet Your Hosts!
The Inspiration Vault | C'mon Get Crafty | Domestic Deadline
Modern on Monticello | This Autoimmune Life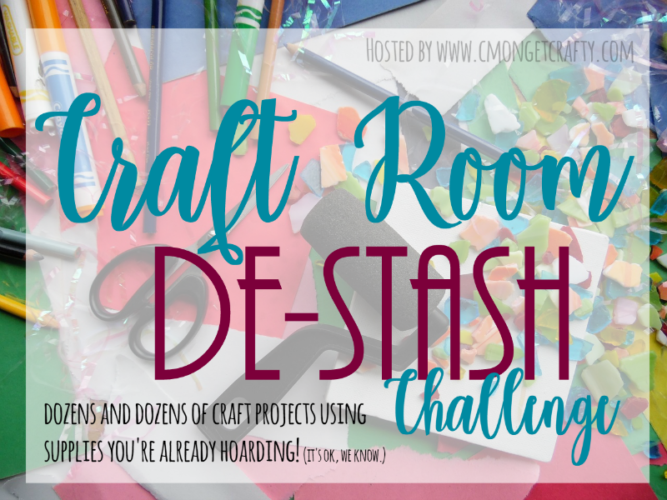 Every month a group of bloggers are challenged by C'Mon Get Crafty to create a new craft or project from their own stash of goodies! Everyone is allowed a $10 allowance for necessities to complete their project, but the bulk of it must be created from their own stash of goodies. Check out some awesome creations you might be able to make from your own stash! #CraftRoomDestashChallenge
This post contains some affiliate links
Materials and Supplies
Pallet Board cut into 4-inch x 4-inch Squares
Affiliate links may be contained in this post. That means if you click on one of those links, I will receive a small commission. You won't be paying a cent more. It just means I will make a little money from your purchase. Click here to read my full disclosure policy.
To start the project cut the pallet board into 4-inch x 4-inch squares.  I cut 4 squares for the 4 coasters.
Use the black craft paint and paint both sides and the edges of each square.  Cut a piece of felt that is 4 inches by 4 inches and glue to the back of the painted wood.
Take the pumpkin and place the top at the point of the wood piece.  Use a piece of chalk to outline where the face goes.  Remove the pumpkin face and put aside.

Pour some Tacky Glue in a small container.  Brush the glue on the eyes, nose, and mouth.  Sprinkle the silver glitter over the glue.
After the glitter is dry glue the pumpkins over the glitter areas.  Once that is dry apply Mod Podge on top.  Give it about 2 coats.
Now go enjoy your favorite beverage on your cute Halloween coasters.  You may even want to make coasters with Halloween Spirit for your favorite Trick or Treaters.  And check out all of the Crafty Goodness we came up with this month.
Loading InLinkz ...