Sponsored: Varnish provided by Déco Art. Project idea, choice of products, and all opinions are 100% that of my own (see full disclosure policy).
Do you have any old shutters lying around?  Or do you pass them by at garage sales or thrift stores?  I have quite a few plus my friend, Karen gave me some.  Well, I have an idea for you on how to use a shutter as a canvas.
Meet Your Hosts
Craftify My Love | Shoppe No. 5 |
C'mon Get Crafty | Domestic Deadline | Across the Blvd | This Autoimmune Life
Modern on Monticello | The Inspiration Vault | My Family Thyme | Stone Cottage Adventures
| Teadoddles |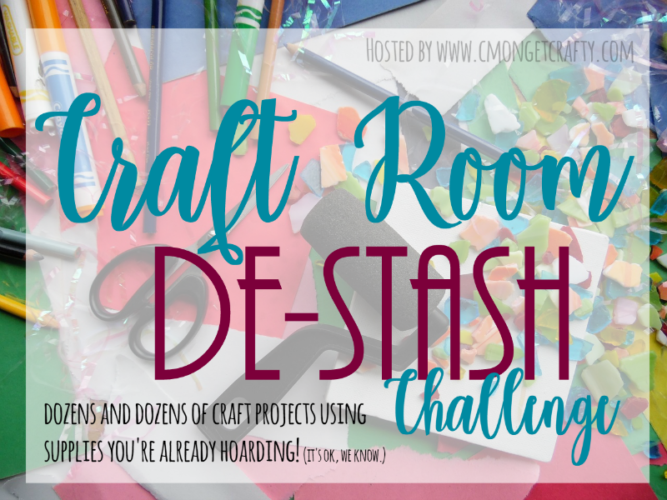 Every month a group of bloggers are challenged by Megan whose blog is C'mon Get Crafty to create a new craft or project from their own stash of goodies! Everyone is allowed a $10 allowance for necessities to complete their project, but the bulk of it must be created from their own stash of goodies. Check out some awesome creations you might be able to make from your own stash! #CraftRoomDestashChallenge
The last shutter project I did I made into signs.  This idea is really Karen's but she said I can share it with you.  She gave me a shutter to finish up for her.  She painted the shutter and wanted to put a fish on it.  I used my nail gun and that fish is never coming off.  Karen also gave me a fish so I decided to copy her idea.  But anything can be nailed on the shutter that is why I feel it can be used like a canvas.  Another idea is to use a shutter to showcase a background for a branch or palm frond.
And this is a great project for the Craft Room Destash project for this month.  Because I have a stash of shutters and this poor fish needs to be perked up.  By the way if you are new here the Craft Room Detash challenges us to use what we have.  Now we are allowed to spend up to $10.00 for supplies to complete the project if we need too.
This post contains some affiliate links
Materials and Supplies
Shutter
Fish
Paint
Affiliate links may be contained in this post. That means if you click on one of those links, I will receive a small commission. You won't be paying a cent more. It just means I will make a little money from your purchase. Click here to read my full disclosure policy.

The louvers on this shutter don't move so I only had to decide which side looked the best.  I decided on the side with the least amounts of gobbed on paint.  It had a bad paint job.  I sanded the gobs as smooth as I could.  Fortunately, the fish covers most of the louvered area.  Once the shutter was sanded as best as I could get it I painted it with a custom color I mixed into a chalk-like paint.
I decided to have fun with the fish.  It may have been one of those fish that people used in the bathroom as a décor accent.  I like to think I brought it up a notch.
The fish got a clean slate by getting an all over paint job in a white craft paint.  And that is when I let my imagination have fun.  It was like being a kid again and having the freedom to paint it however I wanted not what the fish should really look like.

To attach the fish to the shutter just get out the compressor with the nail gun.  For the hanger swap out the nail gun for the stapler.  Staple the piece of rope to the back of the shutter.  I found an old knob that made me think of a cleat so I added that where the knob on the shutter goes.
This a fun project to work on.  As a matter of fact, it is such an enjoyable project on how to use a shutter as a canvas I made another one.  It is totally different.  And I will be sharing it with you very soon.  Now go ahead and check out all of the rest of the amazing Craft Destash Projects.