Ever since I have been enjoying Pinterest I have seen garlands adorning mantels and window sills.  And not only for Christmas.  I became hooked and started making them for different occasions such as the pumpkin patch and one for Easter.  Today I will show you how to make a leaf garland from leather.
This is a great project for the Craft Destash Challenge because I used an old leather jacket and a piece of rope.  The only thing I had to buy are the fasteners.
Meet Your Hosts!
The Inspiration Vault | C'mon Get Crafty | Across the Blvd
Stone Cottage Adventures | Purple Hues and Me | Domestic Deadline
Modern on Monticello | Salvage Sister & Mister | This Autoimmune Life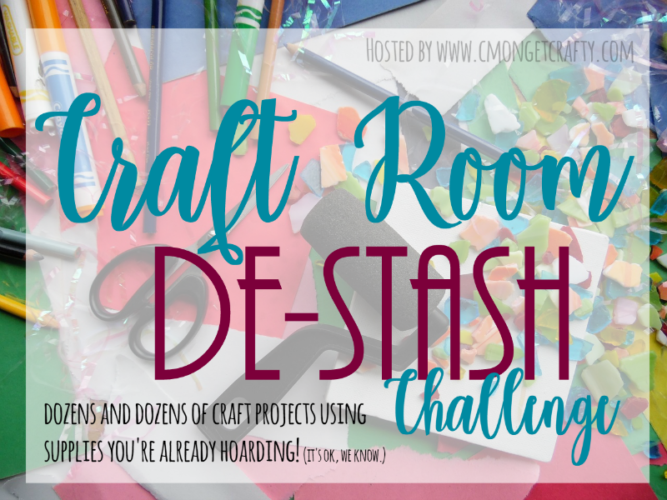 Every month a group of bloggers are challenged by C'mon Get Crafty to create a new craft or project from their own stash of goodies! Everyone is allowed a $10 allowance for necessities to complete their project, but the bulk of it must be created from their own stash of goodies. Check out some awesome creations you might be able to make from your own stash! #CraftRoomDestashChallenge
  It is a lot of fun because we have to use up what we have.  Although we can spend up to $10 if we need too.
This post contains some affiliate links
Materials and Supplies
Brass Fasteners                           Awl (similar)
Affiliate links may be contained in this post. That means if you click on one of those links, I will receive a small commission. You won't be paying a cent more. It just means I will make a little money from your purchase. Click here to read my full disclosure policy.
I gathered my supplies and got to work.  Years ago I bought a packet of fall and Halloween stencils.

There are seven different leaves in varying sizes.  I decided to use all seven designs, making two sets.
To trace the pattern on the leather use a piece of chalk.  After you trace around the stencil draw a tab on the leather about an inch long.

I also used the leaf that is the punch out from the stencil.  Use your good fabric scissors and cut around the chalk line.
Once you have the number of leaves you need to go ahead and punch holes in the tabs.  That will be two holes per tab.
The leather I used is too thick to punch two holes at once.  Punch one hole and wrap it around the rope.
Then use the hole punch to punch the other hole.  Or you can use an awl to make holes.   Before you punch out the second hole check it against the rope so the leaves will be snug on the rope.
For my garland, I put the largest leaves in the center of the rope.  Then on either side the next to the largest.  Continue on each side until the smallest leaves are in place.  Use the brass fasteners to secure the leaves to the rope.
Did I mention how easy this is?  And so cute.  How to make a leaf garland from leather is sure to be a fall favorite each year.  And now it's time to take a look at what my blogger friends created from their craft stash.